Athletic Sports Massage for Sports Injuries, Santa Barbara, Goleta
X went through some serious therapeutic Sports Massage discomfort but we fixed him up. Here's what a 6 degree belt Kung Fu Master says:


Xavior H.
Santa Barbara, CA
7/11/2019
Hey bro,
Aside from some slight but subsiding tenderness remaining around my right-side area you worked on, my back pain is almost completely GONE dude! You are amazing Nicola! I think that whatever it was you twanged deep in my right-side released something? And I'm imagining that if this back thing ever crops up again, we will probably know exactly where to go to release it again. Can't thank you enough man!
I work with many types of top-level athletes to restore health and muscle function and help them avoid sports injuries. Sports massage or Deep tissue massage helps in pain relief and injury rehabilitation to overcome sports injuries, stay healthy and perform at your best. If you're injured, call me.
Sports Massage
Here a list of some of the major sports injuries that I work on.
Achilles Tendon Injury
ACL Injuries
Ankle Injury
Concussions
Dislocated Shoulder
Golfer's Elbow
Groin Pull
Hamstring Injuries
Head Injury
Muscle Strain
Posterior Cruciate Ligament Injury
Repetitive Motion Injuries
Rotator Cuff Tear
Running Injuries
Shin Splints
Skier's Thumb
Soreness After Exercise
Tailbone Injuries
Tendon Injuries
Tennis Elbow
Tommy John Surgery
Turf Toe
Workout Injuries
Example: A common runners injury are shin splints.
There are different kinds of shin splints, such as tibial stress fractures and medial tibial stress syndrome, neither of which can be helped much by massaging the tibialis anterior. But another common kind of shin splints, anterior compartment syndrome, may respond well to the right kind of massage. Shin Splints Sports Massage. … At first, you might feel some soreness around your shinbone or light swelling and tenderness in your lower leg. The pain might appear during exercise, afterward, or it might be constant. No matter when you're affected by shin splints, Sports massage can help you.
Getting injured is every athlete's worst fear. Injuries impair the performance, delay training and conditioning schedules during recovery, are costly to treat, and, most of all, injuries hurt.
Dealing with pain and limited mobility after an injury is exhausting, frustrating, and worth the measures necessary to avoid an injury from happening.
Plus, over time, injuries take their toll on the body. Most of the time, damaged tissue heals, but when muscles are continually taxed to their max through high-performance athletics, the odds increase that an injury, especially a recurring one, will result in a permanent condition.
Sports Massage therapy has come a long way. From spa treatment to relaxation therapy; to specialized therapies, such as sports massage and prenatal massage; and, currently, according to recent research, massage therapy is making headway in preventative medicine, such as preventing injuries in athletes.
As recently as May 2016, Oxford University research suggests that massage therapy may be beneficial for improving individuals experiencing pain. The findings state massage therapy should be offered to a patient for pain management. The study concluded that massage therapy is beneficial across various functional outcomes including anxiety and HrQoL.
Health-related quality of life (HRQoL) is a multi-dimensional concept that includes domains related to physical, mental, emotional, and social functioning.
Researchers at McMaster University reported that massage following an intense workout actually causes muscles to enlarge and grow new mitochondria. Mitochondria are the powerhouses of our cells and are responsible for converting nutrients into useful energy.
For an athlete, energy is everything.
The study found that sports massage and or deep-tissue massage increased the size and number of new mitochondria more than exercising without massage. Increasing mitochondria can improve endurance performance by increasing the rate that muscles utilize oxygen.
To the body, oxygen is everything.
The McMaster University study also found that sports massage therapy increases the range of motion in muscles and decreases recovery time between workouts or athletic events.
Sports Massage for sports injuries not only concentrates on existing injuries but can also help prevent injuries. Massage before conditioning training helps to prevent injuries and should be administered after a warm-up session. Massage can also help to prevent common injuries when administered after a training session, as it helps to return the muscles to their relaxed state.
The better we feel, the better we heal. For muscles, too.
Sports Massage is beneficial to more than muscles
Muscles might be the richest benefactors of a sports massage, but, most people report a feeling of pure relaxation, reduced anxiety, enhanced attentiveness, and improved mood following a sports massage.
Athletes may find an edge in these psychological benefits, making massage a double-duty treatment; a mind and body therapy. That's a lot of bounce for your ounce!
Various bodies of research compiled by the National Center for Biotechnology Information indicate that sports massage therapy:
Reduces heart rate.
Lowers blood pressure.
Reduces recovery time after an injury.
Rehabs an injury.
Lowers anxiety.
Improves mood.
Increases blood flow throughout the body, bringing vital oxygen and nutrients all over.
Relieves muscle pain and tension.
Improves connective tissue healing, which promotes muscle elasticity.
Stabilizes cortisol levels (a stress hormone, similar to adrenaline).
Improves muscle flexibility, which reduces and prevents injury.
And, as if all these benefits weren't enough, research published in the International Journal of Neuroscience suggests that massage therapy improves the quality of sleep.
What is Barefoot Massage?
In Ashiatsu, the practitioner uses their feet to deliver treatment. The name comes from the Japanese, ashi for foot and atsu for pressure.. This technique typically uses the heel, sesamoid, arch and/or whole plantar surface of foot, and offers large compression, tension and shear forces with less pressure than an elbow, and is ideal for large muscles, such as in thigh, or for long-duration upper trapezius compressions.
DEEPER THAN THE DEEP
I offer barefoot deep tissue massage techniques. Ancient barefoot massage has been around in different cultures (Thailand, Japan, and Australia) for hundreds of years, an organic form of touch barefoot is rich in history and tradition and is available in Santa Barbara at Riktr Pro Massage. Barefoot is not something you typically see at local spas or massage places. I've used Barefoot Massage on athletes to the elderly and on my clients who love the long-lasting effects of prolonged ischemic (Restriction of blood due to factors in the blood vessels with damage to the tissue) pressure.
Barefoot Massage, is also called Ashiatsu Barefoot, is a massage technique that applies therapeutic orIschemic compression pressure which is much deeper than what can be done by your finger pressure.
Another myofascial trigger point release is Ischemic compression. In this technique, the pressure is applied slowly and progressively over the trigger point as the tension in the trigger point and its taut band subsides. The pressure is maintained until the tenderness is gone or the tension is released.
Barefoot is perfect for lovers of deep tissue work or can't seem to find a therapist to do deep enough work for them. It is also useful as a sports preparation or athletic maintenance, as the elements of stretching and engaging the large muscle groups are incorporated. It is also a great way to quickly warm up the large muscles for more detailed therapy, especially on people who are very muscular, although there are no restrictions on body types who can receive Ashiatsu, due to the therapist having control of weight distribution. It feels like a "good workout" to some, leaving them refreshed and relaxed rather than tired.
Ashiatsu massage with overhead bars has not been practiced on a widespread basis until recently. The roots and history of Ashiatsu, or barefoot massage, go back further than one might think.
Barefoot deep tissue massage techniques are ancient and barefoot massage has been around in different cultures (Thailand, Japan, and Australia) for hundreds of years and is an organic form of touch. Barefoot is rich in history and tradition, and now is available in Santa Barbara. Barefoot is not something you typically see at local spas or massage spas. I've used Barefoot Massage on athletes to the elderly and my clients are loving the long-lasting effects of prolonged Ischemic (Restriction of blood due to factors in the blood vessels with the damage already to the tissue) pressure.
Ashiatsu Barefoot massage, in general, can have many positive effects on the body and mind.
Ashiatsu: Deeper than Deep Tissue Massage is a deep, painless form of barefoot massage that you will love. Ashiatsu is a massage where massage strokes are performed with feet. The pressure can be applied as deep as necessary because the therapist can engage the whole body to perform the moves unlike only the upper body strength with regular deep tissue massage. Ashiatsu massage can be as relaxing as Swedish and as light and painless if you want it to be. As well t can be more intense in muscle tension relief is that is what's necessary to do during the session.
It's been shown to help people with back pain, migraines, fibromyalgia, carpal tunnel, and rheumatoid arthritis. It can also reduce something in the body called substance P (which causes pain), improve sleep, increase circulation, boost immunity, raise levels of serotonin (a feel-good neurotransmitter) and decrease levels of cortisol (a stress hormone).
What is Ashiatsu?
When broken down, the word "ashi" means foot and "atsu" means pressure. However, Ashiatsu practitioners may also utilize their knees, elbows, palms, and fingers.
Ashiatsu includes a combination of Swedish, myofascial, and compression massage strokes. It includes long gliding strokes associated with Western or Swedish massage and aspects of the ancient Eastern techniques and philosophies of Shiatsu and Ayurveda. Thai techniques stretch, and compression may also be used.
This modality has a long and interesting history, but a relatively new and growing following here in the United States. It may also be referred to as barefoot massage or gravity assisted massage.
Ashiatsu Barefoot is for people who have chronic pain in their muscles as well as people who have range-of-motion problems. Athletes may be the best candidates. They tend to have tense, tight muscles, and their strong bodies can withstand the increase in pressure. A couple of my patients — both were athletes — found that Ashiatsu Barefoot massage helped them relieve tension in the lower back and hip. Ashiatsu Barefoot is one of my favorite modalities to receive massage.
ASHIATSU BAREFOOT MASSAGE BENEFITS
The feet are more comfortable than pointy elbows and thumbs (it's not painful).
The broad surface of the feet enables the client to relax into the strokes. It's known to induce deep relaxation quickly.
Gravity enables the pressure to be deeper than with hands-on.
Ashiatsu increases circulation quickly.
It's both luxurious and yet therapeutic at the same time.
Ashiatsu is especially beneficial as it warms up the larger muscle groups.
Ashiatsu relieves tight muscles and stress.
Deep pressure stimulates the body's self-healing capabilities.
Less soreness typically results than with deep neuromuscular work.
CONTRAINDICATIONS WHO SHOULD NOT RECEIVE ASHIATSU
If you are a woman that is pregnant or trying to get pregnant
If you've had breast implants within nine months
If you've had recent eye procedures/Lasik surgery within 72 hours
If you have a history of Tuberculosis, thrombosis, aneurysm, or ongoing kidney disorders.
If you are currently going through radiation therapy treatments.
If you've had any knee, hip, spine, shoulder, or major joint surgeries within 6 weeks
If you have phlebitis or cellulitis
Any Autoimmune Disorders (such as lupus, gout, rheumatoid arthritis, Multiple Sclerosis, etc) and Lyme disease
If you are currently taking any blood thinners, painkillers, or muscle relaxants
If you have uncontrolled high blood pressure or heart condition
If you have a pacemaker, stint or shunt
If you've had a rib or any bone fracture/break within 6 months
If you have Osteoporosis
If you have spondylolisthesis
If you have Guillain-Barre' Syndrome, any neuropathy, or any neurological disorder that causes loss of sensation or muscle weakness
If you have been on a plane flight longer than 6 hours within the last 24 hours prior to your massage appointment.
If you are sick. (If I get sick, then I have to reschedule everyone)
If you weigh less than 120 pounds (Ashi-Thai and Ashi-Anma are OK for most any weight, but not Ashiatsu.)
If you do not like deeper pressure massage.
If you are under 18 years old.
*Exceptions apply to contraindications, some of the contraindicated people might be able to receive a part of Ashiatsu in certain areas. For example shoulder and neck area with a massage therapist being seated instead of standing.
What is Sports Massage and Deep Tissue Massage and what to expect?
A deep tissue massage is a form of sports massage that is designed to get into the connective tissue of the body, rather than just the surface muscles. As a massage therapist when I perform deep tissue I use a variety of techniques to deeply penetrate the muscles and fascia, loosening them and releasing tension. Most clients have a more intense experience with a deep tissue massage, but also feel that it is more beneficial because it addresses deep-seated muscle pains. Deep tissue is beneficial when undertaken on a regular basis so that I can work together with the client to correct long-term problems, relax the body, and prevent injury.
To get a truly good deep tissue massage you need to find someone who specializes in deep tissue, like Nicola. Most spas have several massage therapists who can offer a basic deep tissue massage integrating a number of techniques and styles customized for your body for maximum impact. Experiment by trying several deep tissue massage therapists to find the one that is the right fit for you and your body.
One of the defining differences between deep tissue and regular massage is the use of tools. A standard massage usually only involves the hands and lower arms of the therapist. During a deep tissue, however, I use elbows and fingers for deep, penetrating work in the muscle. A deep tissue massage also tends to be very slow, and I will use long, flowing strokes to ease in and out of the muscle. Going in too quickly can cause the muscle to tense up, which is not the desired reaction. I also maintain firm pressure at trouble spots for several minutes to achieve muscle release before moving on to the next area of the body.
Deep tissue massage is designed to relieve severe tension in the muscle and the connective tissue or fascia. This type of massage focuses on the muscles located below the surface of the top muscles. Deep tissue massage is often recommended for individuals who experience consistent pain, are involved in heavy physical activity, such as athletes, and patients who have sustained a physical injury. It is also not uncommon for receivers of Deep Tissue Massage to have their pain replaced with a new muscle ache for a day or two. Deep tissue work varies greatly. What one calls deep tissue another will call light. When receiving deep tissue work it is important to communicate what you are feeling.
When you go to get a deep tissue massage, you should talk to the therapist about any issues you might have and like to see addressed during your sports massage. I am happy to concentrate on a single body part for an entire sports massage to achieve lasting results and in fact, half of my clients want just that! It is also important to communicate with me about pain; The sports massage may be intense, but if a client starts to feel pain, he or she should communicate that immediately. I work on a scale of 1 – 10, where 7 is on your comfortable edge for that day and 10 is very uncomfortable pain. A lot of my clients take the deep tissue pain or even like the pain in order to get the quickest results for their body type. At the end of the session, lots of water should be consumed to help the body express the toxins released during the massage. You will probably be sore for a few days after the intense deep tissue treatment but that's normal. Remember that ice is your friend.
Check out these great links for on-line interactive muscle anatomy: http://www.getbodysmart.com/ap/muscularsystem/menu/menu.html http://www.gwc.maricopa.edu/class/bio201/muscle/mustut.htm http://www.innerbody.com/htm/body.html http://academic.pgcc.edu/~aimholtz/AandP/AandPLinks/ANPlinks.html http://www.classbrain.com/artteensb/publish/article_34.shtml http://nhscience.lonestar.edu/biol/ap1int.htm#muscle  http://www.brookscole.com/chemistry_d/templates/student_resources/shared_resources/animations/muscles/muscles.html http://www.nlm.nih.gov/medlineplus/tutorials/muscles/htm/index.htm http://www.bbc.co.uk/science/humanbody/body/ http://users.rcn.com/jkimball.ma.ultranet/BiologyPages/M/Muscles.html#Anatomy_of_Skeletal_Muscle http://www.biomedcentral.com/1471-213X/8/83





What is Barefoot Deep Tissue?
I offer barefoot deep tissue massage techniques. Ancient barefoot massage has been around in different cultures (Thailand, Japan, and Australia) for hundreds of years, an organic form of touch barefoot is rich in history and tradition, and now is available in Santa Barbara. Barefoot Sports Massage is not something you typically see at local spas or massage places. I've used Barefoot Massage on athletes to the elderly and my clients are loving the long-lasting effects of prolonged ischemic (Restriction of blood due to factors in the blood vessels with damage to the tissue) pressure.
What is a Sports Massage?
Sports Massage – Sports massage is designed to enhance athletic performance and recovery. There are three contexts in which sports massage can be useful to an athlete: pre-event, post-event, and injury treatment. It's more vigorous than a Swedish Massage.
The purpose of sports massage therapy is to help alleviate the stress and tension which builds up in the body's soft tissues during physical activity. Where minor injuries and lesions occur, due to overexertion and/or overuse, massage can break them down quickly and effectively. Above all, it can help prevent those bothersome injuries that so often get in the way of performance and your athletic goals, whether one is an athlete, or a once a week jogger.
This treatment is not just for the sportsperson: anyone can benefit from sports massage, including people in physically demanding jobs and those not quite so obvious (occupational, emotional and postural stress may produce many similar characteristics to sports injuries).
Sports massage tends to be deeper and more intense. It is based on the various elements of Swedish massage and often incorporates a combination of other techniques involving stretching, compression, friction, toning, and trigger point response techniques similar to Acupressure and Shiatsu. A skilled therapist brings together this blend of techniques, knowledge, and advice during treatment, to work effectively with the client to bring about optimum performance and to provide injury-free training and minimize post-event injuries.
Sports Massage is best administered 1 /1/2 hours before your event or 1 1/2 hours after your event.
What is Trigger Point Massage
[mī·ōfa′shē·əl]"pertaining to a muscle and its sheath of connective tissue, or fascia."
Myofascial trigger point Massage, also known as trigger points, are described as hyperirritable spots in the fascia surrounding skeletal muscle. They are associated with palpable nodules in taut bands of muscle fibers. Compression of a trigger point may elicit local tenderness, referred pain, or local twitch response and has a referred pain pattern. The local twitch response is not the same as a muscle spasm. This is because a muscle spasm refers to the entire muscle contracting whereas the local twitch response also refers to the entire muscle but only involves a small twitch, no contraction.
The word myofascial means muscle tissue (myo) and the connective tissue in and around it (fascia). Myofascial pain often results from muscle injury or repetitive strain. When stressed or injured, muscles often form trigger points, like contracted knots, that cause pain and tightness.[mī·ōfa′shē·əl]"pertaining to a muscle and its sheath of connective tissue, or fascia."For instance, when the muscle at the top of your shoulder (trapezius) has a trigger point it will refer pain up the side of your neck and head causing a headache. Active myofascial trigger points in the muscles of the shoulder neck and face are a common source of headaches. In many instances, the headache has the features of so-called tension headache, but there is increasing acceptance that myofascial trigger points may initiate classical migraine headaches or be part of a mixed tension/migraine headache complex.
Muscles make up between 36-42% of body weight, on average. They are a large percentage of our total weight and have a corresponding impact on our health. When all is in working order, muscles allow us to perform normal activities with ease. When our muscles harbor trigger points, we experience pain, stiffness and tension, physical limitation and loss of normal function.
Factors commonly cited as predisposing to trigger point formation include but are not limited to de-conditioning, poor posture, repetitive mechanical stress, mechanical imbalance (e.g. leg length inequality), joint disorders, non-restorative sleep and vitamin deficiencies.
A diagnosis of Myofascial Pain Syndrome or Chronic Myofascial Pain means that the primary source of your symptoms is from these myofascial trigger points. Often, trigger points are present secondary to other sources of pain, such as arthritis or bulging discs. The trigger points may actually be causing the painful symptoms attributed to with these conditions. As such, arthritis or bulging discs. The trigger points may actually be causing the painful symptoms attributed to with these conditions.
Back pain
Headaches
Neck pain
Rotator cuff (shoulder) pain
Jaw pain (TMJD)
Tennis elbow
Carpal tunnel syndrome
Hand and arm pain
Repetitive Strain Injuries
Pelvic pain
Hip pain
"Sciatic" pain (buttock and leg pain)
Leg and knee pain
Plantar fasciitis (foot) pain
Tendinitis/tendinopathy
Bursitis
Arthritis
Disc pain (bulge/rupture/herniation) and radiculopathy
Frozen shoulder
Fibromyalgia
How Trigger Points Are Formed
The damage to muscle and connective tissue which results in trigger points can occur several ways. It can happen as the result of:
Repetitive overuse injuries (using the same body parts, in the same way, hundreds of times on a daily basis) from activities such as typing/mousing, handheld electronics, gardening, home improvement projects, work environments, etc.
Sustained loading as with heavy lifting, carrying babies, briefcases, boxes, wearing body armor or lifting bedridden patients.
Habitually poor posture due to our sedentary lifestyles, de-conditioning, and poorly designed furniture
Muscle clenching and tensing due to mental/emotional stress.
A direct injury such as a blow, strain, break, twist or tear. Think car accidents, sports injuries, falling down stairs and the like.
Surprisingly, trigger points can even develop due to in activities such as prolonged bed rest or sitting
Video's Explaining Trigger Points
Other John Harris Massage Video's
What are Trigger Point Injections
( must be done by an MD specialist )
In the TPI procedure, a health care professional (MD) inserts a small needle into the patient's trigger point. The injection contains a local anesthetic or saline and may include a corticosteroid. With the injection, the trigger point is made inactive and the pain is alleviated.
Further Reading on Myofascial Trigger Points
Santa Barbara Independent Article
treatyourtriggers.com Great Resource
The Scientific Basis of Myofascial Trigger Pointshttp://www.triggerpoints.net/
(Simons) Myofascial Pain Syndrome Due To Trigger Points
Collection of Trigger Point Images
WHAT IS CUPPING THERAPY-
Everyone Should Try Cupping-
Athletes use cupping as a secret weapon.
Michael Phelps of the US and Wang Qun, a Chinese swimmer proudly showed off their marks during the 2008 Olympics in Beijing. Always looking for methods to naturally improve health and performance, more athletes have turned to cupping. Tennis ace Andy Murray said he used cupping in conjunction with other treatments to relieve stiffness and to help address a back injury.
Mets baseball players have also adopted the treatment. In August The Wall Street Journal reported on the multitude of Mets players using cupping. The trend started for them after their teammate Daisuke Matsuzaka appeared in the locker room with cupping marks. The 33-year-old started cupping about two years ago and was quoted in WSJ saying, "As an athlete, I want to play as long as possible, in order to do that, I need to find ways to protect my body. I'm always looking for something that might be better."
Michael Phelps uses cupping
Sports massage and Cupping: The newest trend for Rio Olympics athletes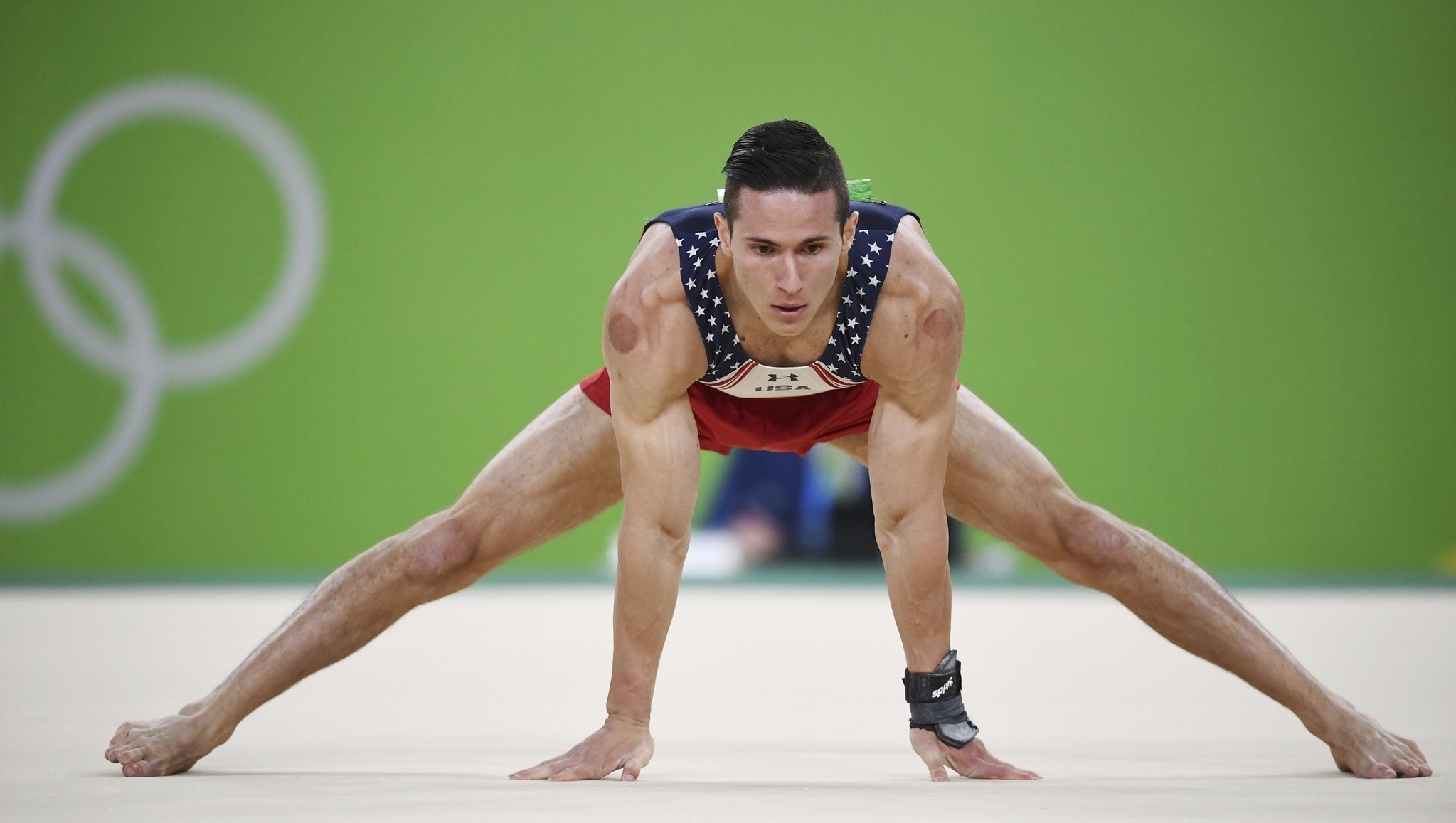 But cupping is not just for athletes and movie stars… cupping is highly beneficial for everyone.
For many of us, the new year is a traditional time to set goals and enjoy an increased openness to new experiences. This willingness presents an opportunity to explore the benefits of Traditional Chinese Medicine. Better health is on everyone's list for the new year and cupping is a wonderful technique that can improve your health and provide numerous benefits.
One way to think about cupping is that it is the inverse of massage. Rather than applying pressure to muscles, the suction uses pressure to pull skin, tissue and muscles upward. I often combine cupping with acupuncture into one treatment, but it could also be used alone.
Cupping was developed thousands of years ago and though the techniques have modernized, the original philosophy remains the same.
Cupping involves placing glass, bamboo or plastic jars on the skin and creating a vacuum by suctioning out the air. The underlying tissue is raised, or sucked, partway into the cup. The purpose of cupping is to enhance circulation, help relieve pain, remove "heat" and pull out the toxins that linger in your body's tissues.
You usually will feel a tight sensation in the area of the cup. Often, this sensation is relaxing and soothing. Depending on your comfort and your practitioner's assessment of the problem, cups may be moved around or left in place. They may remain on your body briefly or for longer amounts of time. Each treatment is unique to you on that particular day. One very common area to be cupped is the back, although cups work well on other areas, too — particularly on fleshy sections of the body.
Cupping causes the skin to temporarily turn red, blue or purple, especially if there is an injury or energetic blockage under the area that was cupped. The skin discoloration can last anywhere from a few days to a couple of weeks, but is rarely painful. Once the marks have cleared, the procedure can be repeated until the condition or ailment is resolved.
There are a number of methods of cupping — the two most common here in the U.S. are "fixed cupping" and "moving cupping."
As the name implies, in this method your practitioner applies massage oil or cream on your skin in selected places, puts the cups over the areas to be treated and then slides them around that region of the body — most commonly the back. The cups slide easily because the cream has lubricated your body.
You ought to consider exploring the benefits of cupping if you seek relief from stress, pain, allergies, fatigue, flu, colds, back pain, anxiety, muscle aches, red itchy skin conditions or fever.
Cupping provides relief for many health conditions.
Cupping has numerous benefits — it can help remove toxins from the body and stimulate the flow of fresh blood, lymph, and Qi to the affected area and throughout the body. It often works wonders for patients with the flu, colds, coughs, back and muscle pain, poor circulation, anxiety, red itchy skin conditions (though cups are not applied to inflamed areas), allergies, fevers, aches and myriad other pains.
Cupping is not exclusive to Traditional Chinese Medicine. Variations of this treatment were used by ancient Egyptians, North American Indians, early Greeks, and in other Asian and European countries. Cupping therapy was recommended by Hippocrates, the man whom many consider to be the "Father of Modern Medicine," in his guide to clinical treatment.
It should be noted that cupping is not be used on patients who bleed easily and/or cannot stop bleeding, have skin ulcers, or edema. It is unwise to cup over large blood vessels as well. Pregnant women should be cupped with extreme caution and never on their abdomen or lower back.
To be cautious I generally practice a less intense treatment the first time, and then see how the patient reacts before implementing longer amounts of time and more suction.
Fixed Cupping:
The cups are placed on a selected area of your body and then left in place without being moved.
Moving Cupping:
As the name implies, in this method your practitioner applies massage oil or cream on your skin in selected places, puts the cups over the areas to be treated and then slides them around that region of the body — most commonly the back. The cups slide easily because the cream has lubricated your body.
You ought to consider exploring the benefits of cupping if you seek relief from stress, pain, allergies, fatigue, flu, colds, back pain, anxiety, muscle aches, red itchy skin conditions or fever.
What does cupping do to your body?
Cupping and acupuncture are similar because they both promote optimal "Qi" by drawing energy and blood flow to areas of the body that are experiencing inflammation, prone to low lymphatic circulation or experiencing poor blood flow.
How long does it take for cupping bruises to go away?
The color and pattern of the marks depend on the level of stagnation in the area. If marks do appear, they can range from a bright red to dark purple, usually lasting 3 days to a week – sometimes longer if the person is very sick or sedentary.
What is Chinese cupping therapy?
According to traditional Chinese medicine (TCM), cupping is a method of creating a vacuum on the patient's skin to dispel stagnation (stagnant blood and lymph), thereby improving qi flow, in order to treat respiratory diseases such as the common cold, pneumonia and bronchitis.
What are the benefits of cupping?
The suction and negative pressure provided by cupping can loosen muscles, encourage blood flow, and sedate the nervous system (which makes it an excellent treatment for high blood pressure). Cupping is used to relieve back and neck pains, stiff muscles, anxiety, fatigue, migraines, rheumatism, and even cellulite.
Dry cupping
The cupping procedure commonly involves creating a small area of low air pressure next to the skin. However, there are varieties in the tools used, the methods of creating the low pressure, and the procedures followed during the treatment.
The cups can be of various shapes including balls or bells, and may range in size from 1 to 3 inches (25 to 76 mm) across the opening. Plastic and glass are the most common materials used today, replacing the horn, pottery, bronze and bamboo cups used in earlier times. The low air pressure required may be created by heating the cup or the air inside it with an open flame or a bath in hot scented oils, then placing it against the skin. As the air inside the cup cools, it contracts and draws the skin slightly inside. More recently, vacuum is created with a mechanical suction pump acting through a valve located at the top of the cup. Rubber cups are also available that squeeze the air out and adapt to uneven or bony surfaces.
In practice, cups are normally used only on softer tissue that can form a good seal with the edge of the cup. They may be used singly or with many to cover a larger area. They may be used by themselves or placed over an acupuncture needle. Skin may be lubricated, allowing the cup to move across the skin slowly.
Skin markings are common after the cups are removed, varying from simple red rings that disappear relatively quickly, to discolourisation from bruising, especially if the cups are dragged while suctioned from one place to another, ostensibly to break down muscle fiber. Usually treatments are not very painful.
What is Swedish Massage?
Swedish Massage works the muscles by various techniques: effleurage, kneading, friction, long strokes, kneading, tapping, vibration, shaking and percussion or tapotement... Swedish massage stimulates the whole body system thus makes it possible for the body to be rebalanced (by supporting a venous return, a better blood and lymphatic circulation, the elimination of toxins and better management of stress) and works on the level of the osseous frame.
Effleurage: Gliding strokes with the palms, thumbs and/or fingertips
Petrissage: Kneading movements with the hands, thumbs and/or fingers
Friction: Circular pressures with the palms of hands, thumbs and/or fingers
Vibration: Oscillatory movements that shake or vibrate the body
Percussion: Brisk hacking or tapping
Passive and active movements: Bending and stretching
Benefits of Swedish Massage
Swedish massage feels good, is relaxing and invigorating. It affects the nerves, muscles, glands, and circulation while promoting health and well being.
What is Reflexology?
Reflexology is a gentle and effective form of therapeutic treatment applied to the feet (click on feet link and see interactive foot map) hands (click on hand link and see interactive hand map) and ears. Reflexology is considered to be a holistic healing technique that aims to treat the individual as a whole, in order to induce a state of balance and harmony in the body, mind, and spirit. Reflexology is based on the belief that there are reflex areas on the feet, hands, and ears corresponding to all the parts of the body including major organs. The therapist stimulates and works these organs and systems through the reflexes, applying pressure to the feet with thumb and fingers. A treatment lasts between 40 minutes and 1 hour. Most people can benefit from Reflexology because it can bring relief to a wide variety of acute and chronic conditions and is suitable for all ages, including children. Once the body has been rebalanced, regular treatments can help to maintain health and general well-being.
History of Reflexology
The origins of Reflexology evidently reach back to ancient Egypt as evidenced by inscriptions found in the physician's tomb at Saqqara in Egypt. The translation of the hieroglyphics are as follows: "Don't hurt me." The practitioner's reply:- " I shall act so you praise me. "
We cannot determine the exact relationship between the ancient art as practiced by the early Egyptians and Reflexology as we know it today. Different forms of working the feet to affect health have been used all over the ancient world. Dr. Riley maintained that this form of healing spread from Egypt via the Roman Empire.
Credits: http://www.reflexology-usa.net/history.htm
For a lot more information on the history of reflexology please visit this link
What is Tui Na?
From Wikipedia, the free encyclopedia
Tuina is a hands-on body treatment that uses Chinese Taoist and martial art principles to bring the body to balance. The principles being balanced are the eight principles of Traditional Chinese Medicine (qv because TCM was codified by the PRC out of many ancient traditions.) The practitioner may brush, knead, roll/press and rub the areas between each of the joints (known as the eight gates) to open the body's defensive (wei) chi and get the energy moving in both the meridians and the muscles. The practitioner can then use a range of motion, traction, massage, with the stimulation of acupressure points and to treat both acute and chronic musculoskeletal conditions, as well as many non-musculoskeletal conditions. Tuina is an integral part of Traditional Chinese Medicine (TCM) and is taught in TCM schools as part of formal training in Oriental medicine. Many East Asian martial arts schools also teach tui na to their advanced students for the treatment and management of injury and pain due to training. As with many other traditional Chinese medical practices, there are several different schools with greater or lesser differences in their approach to the discipline. It is related also to Chinese massage or anma
What is Chi Nei Tsang Lymphatic drainage bodywork?
Chi Nei Tsang is a holistic approach to the healing touch modality of old Taoist Chinese origin. It integrates the physical, mental, emotional and spiritual aspects of our being. CNT goes to the very origin of health problems, including psychosomatic responses.
Chi Nei Tsang literally means "working the energy of the internal organs" or "internal organs chi transformation." CNT uses all the principles of Kung-Fu and Tai Chi Chuan known as Chi-Kung; therefore, CNT is a form of "applied Chi Kung."
CNT works mainly on the abdomen with deep, soft and gentle touches, to train internal organs to work more efficiently. Unprocessed emotional charges are also addressed in this manner, as well as all of the body systems: digestive, respiratory, cardiovascular, lymphatic, nervous, endocrine, urinary, reproductive, muscular-skeletal, and the acupuncture meridian system (Chi).
CNT came into being millennia ago in the mountain ranges of Taoist China. It was used by monks in monasteries to help detoxify, strengthen and refine their bodies in order to maintain the high energy required to perform the highest levels of spiritual practices.
Today CNT is Mainly Used for Four Different Reasons
1 – CNT detoxifies: CNT manipulations help relieve the body of excess stagnation, improving elimination and stimulating the lymphatic and the circulatory systems. CNT also strengthens the immune system and resistance to diseases. In doing so, CNT augments other health care modalities with optimal results.
2 – CNT helps to restructure and strengthen the body: because it addresses the visceral structures and positioning of internal organs, CNT stimulates them to work better and also helps correct the postural problems resulting from visceral imbalances. It releases deep-seated tensions and restores vitality. CNT has been helpful with chronic pains such as back, neck and shoulder pains and problems related to misalignment of the feet, legs, and pelvis.
3 – CNT helps practitioners to deal better with their emotional life: all of our unprocessed emotional life is stored in our digestive system waiting to be addressed. Poor emotional digestion is also one of the main reasons for ill health. CNT facilitates the unfolding of emotions and the clarification of our emotional life. This makes it possible for us to evolve and grow in the direction of our better self. CNT has also been successfully used in combination with psychotherapy.
4 – CNT teaches clients to know themselves better: we are all responsible for our own health and that healing comes from within. You learn techniques to improve your breathing as well as fundamental self-help techniques.
REFERENCES
1. From Healing from Within, by Gilles Marin
2. Chi Nei Tsang- Chi Massage for the Vital Organs- Mantak Chia, 2007
Here's an interesting link about…Mastering Chi& the Male Multiple Orgasm by Rob Sidon which was originally written by Mantak Chia.
What is Healing Massage for Depression and Anxiety?
"Riktr will help bring the "Balance" back into your life with the natural healing benefits of a healing touch massage. When one is balanced we are at our best. By making healing massage a part of your wellness program you are on our way to achieving wholeness."
What we know: Researchers at the University of Miami followed 37 breast cancer patients who received massage therapy or practiced progressive muscle relaxation for 5 weeks. Women in the massage group reported feeling less depressed and angry, and they had more energy. In a University of South Florida study of high blood pressure patients, those who got 10-minute massages three times a week for 3 weeks lowered their higher number by 11 points.
What new research shows: A recent review of more than a dozen massage studies conducted by the Touch Research Institute at the University of Miami School of Medicine concludes that massage therapy relieves depression and anxiety by affecting the body's biochemistry. In a series of studies including about 500 men, women, and children with depression or stress problems, researchers measured the stress hormone cortisol in participants before and immediately after a massage and found that the therapy lowered levels by up to 53%. (Cortisol can drive up blood pressure and blood sugar levels and suppress the immune system.)
Massage also increased serotonin and dopamine, neurotransmitters that help reduce depression.
MASSAGE AND ANXIETY
Regular massage can help to reduce our anxiety levels. Research by Tiffany Fields, at the Touch Research Institute at the University of Miami School of Medicine in the USA, looked into the therapeutic value of massage in reducing anxiety and depression. The data from this study indicated that massage produced marked reductions in anxiety and depression in people who were massaged, but not in a control group who were not massaged. Mood and sleep patterns also improved they slept more soundly and for longer periods of time. The subjects massaged were found to have lower levels of cortisol stress hormone in their saliva and depressed people also had lower levels of urinary cortisol and noradrenaline which increase in times of stress.
Other studies have confirmed this research. Adults with chronic anxiety problems, people with muscle tension, aches and pains etc, who did not improve after being given anti-anxiety medication/antidepressants, muscle relaxants, and relaxation training, were given a course of massage. Afterward most reported less tension, pain, and need for medication.
MASSAGE AND DEPRESSION
Andrew Vickers, a researcher formerly with the Research Council for Complementary Medicine who carried out research into the value of complementary medicine's in psychological health problems which were published in the journal "Psychiatry in Practise", said it's far too simplistic to say massage can cure depression or other diseases, but it can help us to cope better and improve the quality of life.
REFERENCES
1. Bentley Eilean (2000) Head, Neck & Shoulders Massage: a Step-By-Step Guide, St Martins Press.
2. Fields T. (2000) Touch Therapy, Churchill Livingstone.
3. Fritz S. (1995) Therapeutic Massage, Mosby Lifeline.
4. Jackson A. (1993) Massage Therapy, Optima.
5. Wallcraft J. (1998) Healing Minds, Mental Health Foundation.
Credits: (From Wikipedia, the free encyclopedia) 
*Disclaimer: This information is not intended to be a substitute for professional medical advice. You should not use this information to diagnose or treat a health problem or disease without consulting with a qualified healthcare provider. Please consult your healthcare provider with any questions or concerns you may have regarding your condition. The information provided is for educational purposes only and is not intended as diagnosis, treatment, or prescription of any kind. The decision to use, or not to use, any information is the sole responsibility of the reader.
Other good related links:
Link 1- http://ezinearticles.com/?Using-Massage-To-Treat-Depression—A-Powerful-Anti-Depressant&id=911140
Link 2- http://www.selfgrowth.com/articles/Massage_helps_depression.html
*Disclaimer: This information is not intended to be a substitute for professional medical advice. You should not use this information to diagnose or treat a health problem or disease without consulting with a qualified healthcare provider.
Please consult your healthcare provider with any questions or concerns you may have regarding your condition.
The information provided is for educational purposes only and is not intended as diagnosis, treatment, or prescription of any kind. The decision to use, or not to use, any information is the sole responsibility of the reader. These statements are not expressions of legal opinion relative to the scope of practice, medical diagnosis or medical advice, nor do they represent an endorsement of any product, company or specific massage therapy technique, modality or approach. All trademarks, registered trademarks, brand names, registered brand names, logos, and company logos referenced in this post are the property of their owners.